Back pain is one of the most common health problems at the workplace. In addition to the employee suffering from physical discomfort, the employer, too, feels the consequences resulting from declining work efficiency or even the employee's incapacity to work.
Ergonomic products are one of the key factors when it comes to preventing and treating back pains. The AGR (Aktion Gesunder Rücken e. V.) quality label is an important decision-making aid when purchasing back-friendly products.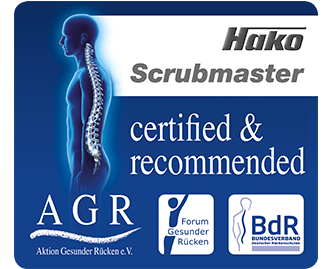 An independent testing body consisting of medical and therapeutic experts specializing in different fields assesses the extent to which the tested objects release stress from the spine and support the human locomotor system. Only products meeting the strict test criteria are awarded the AGR quality label.
Made for the operator
To provide maximum comfort for the user, Hako's ride-on Scrubmasters have been designed as ergonomic, mobile workplaces. In addition to the comfort seat and easy-to-reach operating elements, our ride-on scrubber-driers are equipped with clever details facilitating back-friendly everyday machine maintenance, which has played an important role in meeting the strict test criteria of AGR e.V. and subsequently being awarded the AGR quality label.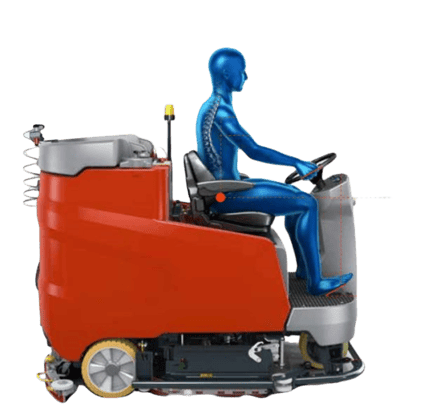 Perfectly Adjusted
The suspension as well as the arm- and backrests of the comfort seat can be adjusted to suit the operator's individual needs – to ensure optimal seating comfort for every user.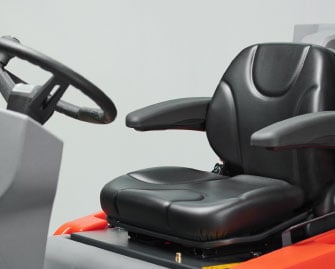 Ergonomic workplace providing fatigue-free working
Optimal adjustment options in terms of SIP (seat index point), the position of the steering wheel, foot room and pedals

Increased safety due to fatigue-free working

360° all-round view for increased safety

Large footrest (ample room for the driver's feet)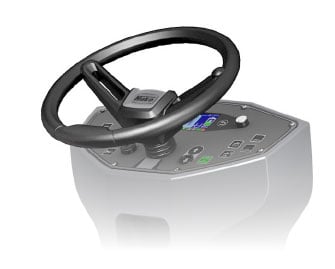 Easy maintenance
The patented, automatic squeegee cleaning system facilitates everyday machine maintenance. The squeegee folds up to allow easy access for cleaning purposes – no complicated removal necessary.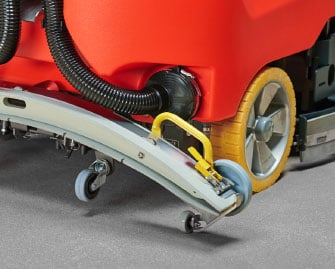 If you are interested in acquiring any type of industrial sweeper, floor scrubber, or vacuum cleaner, you can consult our catalog of industrial cleaning equipment. You can also contact us directly through our contact form and a specialist will advise you on the best option for your need, without compromise.