Our objective: To leave behind a clean environment, not only on the surface

Personal progress and the further development of our products are integral elements of our corporate philosophy. As a Blue Competence Alliance Member, we are committed to complying with the sustainability guidelines of the mechanical engineering industry. Sustainability from design to delivery to disposal.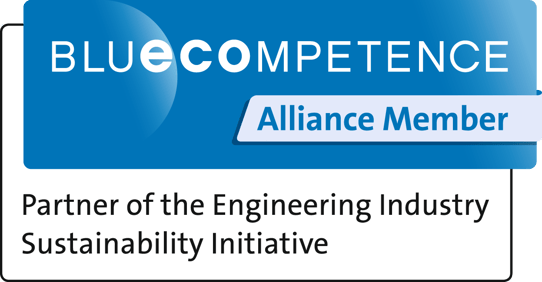 In order to verify and optimise the quality of our products, fulfill environmental standards, and comply with all applicable rules and regulations, Hako implemented a quality management system as early as 1999, followed by an environmental management system in 2003. In addition, Hako has been certified according to DIN EN ISO 14001 since 2004. Our integrated quality management system gives our business activities structure and orientation and helps us to sharpen our view for the essential, namely to ensure our customers' satisfaction and safety, and to protect the world we live in
Less is more: Innovations for maximum efficiency:
| | |
| --- | --- |
| | For higher standards of hygiene and protection: Equipping the tank with antibacterial properties it reduces the development of bacterial and fungal growth that otherwise would grow in the tanks, causing odours and potential exposure when cleaning the tank. Our innovative feature truly protects the users and helps prevents odours. |
Hako-AquaControl

Saves up to 50 % water and detergent use: Through intelligent Hako Aqua Stop Brushes and Hako Aqua Control Water Systems, simple effective sustainable solutions that are standard on Hako scrubbers. Simple, sustainable thinking at it's best.
| | |
| --- | --- |
| | Noise-reduced working: e.g. through SilentKit for all machines used in sensitive areas; catalysts and particle filters or electronic drives. All developed with low noise operation. |
| | |
| --- | --- |
| | Hako's onboard dosing and filling systems. Saves cleaning detergents and protects the environment: No incorrect dosing and reliable consistent cleaning results with a minimum amount of chemicals. No wastage, no excess. |
100% for zero emissions
To ensure that our solutions meet the demands of tomorrow, we continuously develop them further: in close cooperation with users, oriented on current trends, and by taking future requirements into account. This is why we keep driving our R & D activities in our own development laboratory further towards efficiency-increasing and environmentally friendly measures as well as important topics of the future, such as electromobility solutions, autonomous systems or digitised processes.
Discovering and utilising new opportunities
The all-electric sweeper is an important step towards climate neutrality. And we go one step further: with digital solutions that provide even more efficient working. Aside from the positive effects on economic efficiency, our solutions ensure an extended service life for all technical components.
Do you want to learn more? Click down below to speak with a specialist: